Made in Dagenham – 2016
Grand Theatre, Wolverhampton
"This ain't about the money, it's about respect. Women always come in second and that's what we reject."
This was a West Bromwich Operatic Society musical theatre performance that seemed to have its heart in the right place, with all the passion and sincerity of the fiery women it represented.
From Rachel Davies as Rita O'Grady's unexpected outburst at the board of directors meeting, to Lorraine Foggin as the formidable and hilarious Beryl taking over the stage at the social club during a comedian's sexist routine – this was a play that is still as relevant today as the picket lines were in 1968.
Microphone and lighting issues did not detract from the heartfelt performances of John Wetherall as Eddie O'Grady, the awe-inspiring power of the chorus songs and the beautiful young voice of Will Foggin as Graham O'Grady.
The slickest scenes were the interactions between an exasperated Tim Jones as Harold Wilson and ball-breaker Sarah Moors as secretary of state for employment, Barbara Castle.
The trio of public servants, George Stuart, Aiden Cutler and Lyndon Flavell delivered well-timed snappy comedic one liners that really brought the audience to life.
Eileen Woolley as Connie gave a genuinely emotive performance in her rendition of 'Same Old Story', highlighting the struggle all women continue to have in securing equal pay against their male counterparts.
Stylistically, this was a show that had the pazazz of the 60s, with Go Go boots, dog tooth swing dresses and even a roll-in Ford Cortina. Though at times the scene changes were clunky, this did little to distract the cast from delivering a well-executed, polished performance with a series of stunning songs.
By the second half, the characters had really come into their own, with ditzy Sally Pugh as Clare driving us all bonkers, Greg Yates as Monty almost bringing us to tears in his loving tribute to Connie, and Tasheka Coe hitting high notes many professionals could only dream of reaching.
There is a reason this company won 'Best am dram company 2016' at the What's On Readers' Awards, and it's the same reason the audience had no hesitation in leaping to their feet at the end of this opening night.
It may have had a few jitters, it may be a little rough round the edges, but much like the women of Dagenham themselves, it had bags of spirit and a determination.
By Jessica Labhart
Girl power is the buzz word this week in Wolverhampton. No, not the Spice Girls but the workers of Ford in Dagenham as short lived West End musical Made In Dagenham arrives at the Grand Theatre in the very capable hands of West Bromwich Operatic Society (WBOS) who have just scooped the title of Best Am Dram Company 2016 in the recent What's On Readers' Awards.
Made in Dagenham is a musical with music by David Arnold, lyrics by Richard Thomas, and a book by Richard Bean. Based on the 2010 film of the same name, which in turn was based on the real events of the Ford sewing machinists strike of 1968, the musical made its West End and world premiere at the Adelphi Theatre in 2014 and closed just 6 months later.
I first experienced a WBOS production last year when I visited the Grand to see their production of Ghost The Musical. WBOS were one of the first amateur companies in the area to take on this technical laden musical and once again they are one of the first to bring Made In Dagenham to the Midlands. Ghost won the society no less than 4 awards and a further 2 nominations in the Birmingham & District Theatre Guild Awards so I walked into the theatre tonight with huge expectations and looking forward to another superb show.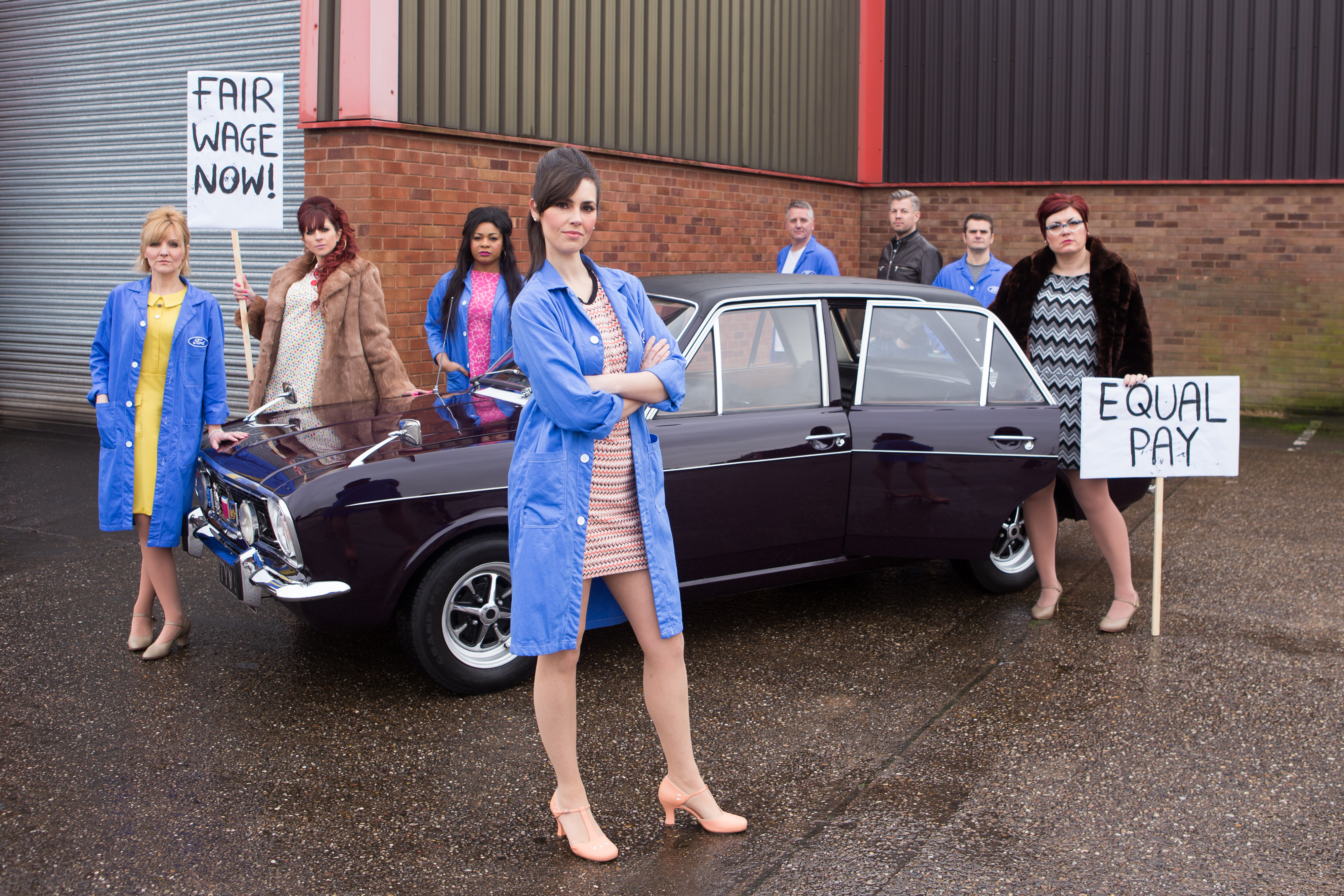 Rachel Davies leads the cast in the role of Rita, a Dagenham machinist who along with her co-workers begin a campaign for equal pay after a wage restructuring sees them become classed as unskilled. Davies plays the role to near perfection, shy and timid in the beginning and growing into the leader and spokesperson of the girls by the end of the show. Inspired by fellow worker Connie (Eileen Woolley) Rita is the focal point of the whole show and is supported at the beginning by her husband Eddie (John Wetherall). Wetherall took the role of Sam Wheat last year and his vocals are superb once more and his performance of 'The Letter' is one of the highlights of the evening.
The script for this show is pure comedy gold. Littered with a fair amount of swearing it is a gift for Lorraine Foggin playing Beryl. Foggin's comic timing is a joy to watch and commands without question the biggest laughs of the night as she shines brightest on the stage.
Tim Jones as Harold Wilson and Sarah Moors as Barbara form a superb double act in Westminster as they battle against the unions in their own way. Public servants played by George Stuart, Aiden Cutler and Lyndon Flavell also provide laughs along the way.
The set was impressive and didn't look out of place on the large Grand stage although some of the scene transitions were a little shaky tonight on opening night, the rake on the stage causing a number of 'rolling' moments throughout. Lighting and sound was also a little hit and miss tonight but I am sure that these will be ironed out.
Tim Harding led the wonderful 12 piece Midland Concert Orchestra and sounded wonderful throughout.
This was a show of two halves for me with act 2 really delivering with some of the best songs within it. Made in Dagenham is a fun fast paced show and a challenge for any amateur company. WBOS took on that challenge and on the whole made a fantastic job of it. If you are in or around Wolverhampton this week grab yourself a ticket and 'Stand Up' with the girls of Dagenham.
Reviewer: Paul Downham
Saying a production belies its 'amateur' status is a phrase you will often read in a theatre review, almost to the point where it borders on cliché. What the audience of WBOS's superlative production of Made in Dagenham were lucky enough to witness, however, could have graced any professional stage. For a local company, it was almost impossible to find fault, from the principals to the chorus, through to the stunningly good band, brilliant choreography and fantastic direction. You don't see theatre of this calibre every day.
Made in Dagenham is a touching story about the Essex town's factory workers' fight for equal rights and fair play. In a man's world, we witness the daily struggles of 'busy women' desperately trying to run a home, raise their children and graft every day for very little money, just to make ends meet. Their world is turned upside down when the management at their local Ford plant is going to downgrade their status to unskilled workers, causing unrest amongst the workforce.  The situation comes to a head when machinist Rita O' Grady, played by the precociously talented Rachel Davies, is nominated to talk to the management and express their outrage. Their twisted, misogynist views only force the women to storm out of the meeting and straight onto the picket line. This has far-reaching consequences in more ways than one.
Being a figurehead for a nationally publicised strike leaves Rita's life in tatters, nearly costing her; her children, her marriage to Eddie (John Wetherall) and her sense of who she is. She stays resolute, however, and supported by her comrades, gives the speech of her life to bring about the equality they have fought so desperately for.
One of the remarkable things about this production is the strength in depth in the performances. Made in Dagenham has well over a dozen numbers sung by different members of the company and every one of them was on point. Tim Jones gave a hilarious turn as hapless Prime Minister, Harold Wilson, brilliantly supported by his foppish dancing civil servants. Sarah Moors was excellent as "Secretary of State for taking on the Unions", Barbara Castle. Lorraine Foggin's Beryl may have turned the theatre blue, but the show was richer for it. These are a select few of a raft of wonderful performances which just kept on coming.
The production team also need to be congratulated for putting together this extraordinary achievement. Musically, it was faultless. Every harmony was tight and the chorus blended together beautifully, even during the energetic dance routines. When the whole company was onstage and just singing out, however, the sound they produced was spine-tingling. The set was wonderfully effective, capturing the industrial feel of the factory perfectly, whilst seamlessly becoming a house, or a Whitehall office.
This production defied all expectations, even from a company as talented as WBOS, and should you have the opportunity to see this towering triumph, you will not be disappointed.
Sunset Boulevard – 2015
Grand Theatre, Wolverhampton
Based on the 1950 blockbuster Sunset Boulevard tells the desperate story of the fading Hollywood star Norma Desmond and is considered to be one of Sir Andrew Lloyd Webber's finest musical achievements. With this in mind, WBOS delivers the compelling tale with confidence, and showcases some of the best local talent around.The show opens with aspiring screenwriter Joe Gillis, played by Leon Davies, working the studio circuit in an attempt to get hired, and trying his best to stay out of trouble. Taking refuge in the ground of a great house he stumbles into the eccentric world of former starlet Norma Desmond, played by Sarah Moors, and it doesn't take long until influence and circumstance fast forward their casual liaison into something more contrived.
The two give stellar individual performances, with Moors portraying the oddball vulnerability of Norma perfectly against Davies' charming, opportunistic but ultimately commendable Joe. The chemistry develops with the narrative and flashes moments of brilliance, particularly with the power struggle and shifting dynamic of their relationship – a credit to the direction of Jason Capewell. They make an engaging duo, but equally hold their own with seriously impressive solo vocals and stage presence.
Equally, Olivia Jones commands the stage as Betty Schaefer, Joe's writing progeny and Norma's rival for his heart. Presented with purpose and poise, the real shame is that there was not more time in the script to allow for the developing romance with Joe to play a bigger part, and allow Jones and her glorious voice more of the spotlight.
Special mention must go to Tim Jones as the long-suffering Max who provided real humanity in the Hollywood spectacle that surrounded him, and whose rich vocals lent themselves beautifully to his heartfelt solo pieces.
The chorus too should be commended, with well-developed characters, their individual turns showcased their natural talent. The collective vocals were much stronger than what you would expect of an am dram ensemble: a credit to the cast but also in no small part to the MD James Maddison, it would be assumed. Claire Flavell's choreography was interesting and supported the narrative, with particular highlights being Nicholas Sullivan and the marvellous twirling tailors in The Lady's Paying, and the ruthless Consultants in A Little Suffering.
WBOS took a risk with this ambitious and challenging show, and despite a few technical glitches (handled by the cast without a flinch) it was certainly one that paid off. With the show licensed to only a few societies across the county for a very limited run you'd have to be mad to miss this blockbuster show – get down to Sunset Boulevard, if you still can.
Last night I was invited to see Sunset Blvd at the Wolverhampton Grand by The West Bromwich Operatic Society. The Andrew Lloyd Webber blockbuster musical has a sublime score and it tells the story of faded movie star Norma Desmond who is desperate to return to the big screen. She encounters struggling screenwriter Joe Gillis who is working incredibly hard to get published. After a series of manipulation, passion and madness, the show concludes dramatically with a tragic ending.
I reviewed West Bromwich Operatic Society's production of Ghost earlier this year and I was astounded by the talent and Sunset Blvd maintained that opinion of the WBOS, it is a tough score and the musical numbers in the show are excecuted flawlessly. The ensemble numbers are strong and supported by huge amounts of energy which gave each number the power it needed.
Sarah Moors plays the role of Norma Desmond, a crazy-eyed and raving actress on the brink of a breakdown due to the diminish of her career. The role itself is particularly hard but Moors managed to maintain the emotional balance with the audience as they flicker between hating her and feeling sorry for her. Her overdramatic use of movement and melodrama portrayed the psychopathic character excellently and her tone suited the big numbers such as As If We Never Said Goodbye.
Leon Davies shines as screenwriter Joe Gillis, his performance is faultless and highly convincing. Each movement is sharp and every word he sings is compelling, his portrayal of the character is exceptional. Every aspect of the character is well researched and thought through as he depicts both the softer side and the manipulative side of Joe Gillis.
Olivia Jones stars as young script editor and Joe's love interest Betty Schaefer. Jones captures the essence of Hollywood women, I was impressed by her use of voice which reflects the naivety and innocence of the role. She is poised yet shows glimpses of a fiery character, and her vocals are superb.
Tim Jones plays Max Von Mayerling, Norma Desmond's servant and right hand man. His voice is powerful and packed with emotion and his understanding of the character is evident. The character grows throughout the musical and his story and feelings unravel to reveal a damaged man putting on a facade to protect Norma Desmond.
The highlight of the performance was the stunning duet between Joe and Betty who sing Too Much In Love To Care with poignant emotion and pristine harmonies.
There were few technical difficulties and a slight lack of fluidity in transitions, with merely a few more rehearsals the show could be much more polished.
Although I found the story itself quite erratic, the company brought energy and passion to create a thrilling take on the show, encapsulating the glamour and horror of old Hollywood.
Ghost – 2015
Grand Theatre, Wolverhampton
There wasn't anything amateur about the opening night of 'Ghost – The Musical' at Wolverhampton's majestic Grand Theatre on Wednesday.
But, for sure, it was the am-dram production of the West Bromwich Operatic Society that took centre stage and will do so until Saturday.
To do the iconic 1990s tear-jerking film justice is hard enough, but to follow a play that is proving a roaring success worldwide is also difficult.
So you can only take your hat off to this Black Country group, for their efforts in bringing the emotion of a tear-jerking tale back to life for another audience in words and songs.
There wasn't a poor performance on show from any of the cast, all fresh from the afternoon's matinee that opened the show for spectators.
Both John Wetherall and Laura Stanford were revelations in the lead roles as Sam Wheat, the murdered 'ghost' stuck in limbo, and bereaved partner Molly Jenson.
Patrick Swayze and Demi Moore provided emotion and chemistry on the silver screen that is a daunting task to match, but they were both believable and capable as soul mates.
And Laura Wynter brought the bundles of energy required to pull off the role of physic Oda Mae Brown. Much like Whoopi Goldberg in the movie, it was a star turn.
That provided oodles of comic relief, particularly when she first hears Sam's voice and then recreating the scene when Oda Mae picked up £10million and had to hand it over to charity. The howls of laughter were audible.
It was down to George Stuart to assume the mantle of treacherous villain Carl, the man who ultimately cost Sam his life and then went after his lady. 'You Killed Me Twice' was the signature message of one number.
James Mateo-Salt and Maison Kelley were transformed into the roles of murderer Willie Lopez and the subway ghost, respectively, and put their own stamp on proceedings.
This isn't of course, just about the film. Music is as much the order of this production and that wasn't a problem here, as the vocals and choreography were smooth and harmonious.
By the sheer nature of the Molly situation, Laura was called into action to perform powerful solos putting across the despair of tragedy and delivered in spades, with a great voice that never got too loud.
The dance troupe, coached by Claire Flavell, buzzed around the platform and blended well to the scenes in which they were involved, particularly in Oda Mae's physic booth and in the subway scenes.
Sam's 'fellow' ghosts added the required light-hearted look at life and death while timely lighting helped complicated effects, on a shoestring budget, come off with few any the wiser.
Honourable mention must also go to Phil Johnson's Midland Concert Orchestra who were pitch perfect beneath the stage, with Adam Joy and Simon Pugh in charge of the music and acting respectively.
The show ended after the poignant sight of Sam finally taking his place in heaven, before the entire line-up returned to the stage to rapturous applause.
They will be rightly pleased with their first night's work. Were we? Ditto.
By Craig Birch
Based on the 1990 romantic fantasy, Ghost The Musical tells the very human tale of a spiritual love
that transcends the greatest of barriers. Taking care to respect the classic screenplay, WBOS present a stellar re-telling of the story with a few tweaks and a lot of talent.The show opens with Here Right Now performed by the three leads: John Wetherall as Sam, Laura
Stanford as Molly, and George Stuart as best-friend Carl. The relationship between the trio is played to perfection throughout, with comedy, anger and tenderness shifting to reflect the unfolding story, it was really engaging to watch. In particular, the scenes between Molly and Carl made for brilliant viewing: grief, awkward affection and the ultimate betrayal narrated with real emotion by the omniscient Sam.Stuart's portrayal of turncoat Carl was dynamic and conflicted, and he commanded the stage with
soaring vocals and confidence far beyond his 22 years. Wetherall was equally well-cast, and played
the present and departed Sam with depth. Most impressive, though, was the brilliant turn by
Stanford as Molly. Her beautiful hushed tones and impressive belt gave real heart to her anguish,
particularly in With You, which left few dry eyes in the audience.Laura Wynter took on the role of reluctant psychic Oda Mae Brown, made famous in the film by
Whoopi Goldberg. Whilst elements of the character were a rightful homage, Wynter gave a great
individual performance whilst giving the audience the eccentric personality they know and love. A
gorgeous gospel voice, she shone in numbers Are You A Believer? and I'm Outta Here, but never at
the expense of the scene.Special mention must go to Maison Kelly as Subway Ghost, whose offbeat and tormented spirit was played with conviction.The ensemble and dance ensemble had clearly worked hard also, as numbers were well sang and
executed with purpose and precision. The storytelling too should be applauded, their presence set
the scene and supported the principals to move the narrative forward with pace, with More, Rain/Hold On and the subway transition to watch out for as particular highlights.WBOS did a superb job at bringing this classic to the local stage, with incredible emotion and
performances worthy of any West End theatre. A definite hit, if you can still get your hands on a
ticket this is not one to miss.
Last night I was invited to see Ghost The Musical at the Wolverhampton Grand by The West Bromwich Operatic Society. Based on the 1990 smash hit film, Ghost tells the story of two lovers Sam and Molly as they start their life together. After Sam is tragically murdered he becomes trapped as a Ghost, he soon learns that Sam is in danger and his attempts to protect her from his murderer leads him to a psychic named Oda Mae Brown.
Titled as one of the most prestigious amateur musical theatre companies in the Midlands, The West Bromwich Operatic Society seriously did not disappoint, I couldn't fault any member of the cast as their talent and professionalism was flawless.
Considering it was the first time I'd seen the musical, I was engrossed from start to finish as the story was told passionately through both Sam and Molly.
John Wetherall who played Sam gave a very convincing performance, his love for Molly was nearly palpable as he went to such great lengths to protect her. His acting conveyed the different sides to his character well, he portrays his anger and frustration superbly, especially in such a challenging role as he is unable to be seen by Molly throughout the majority of the show.
Laura Stanford who played Molly had a phenomenal voice, I felt as if she'd just walked off the West End stage as her voice literally stole the show for me. She had a real likeability about her character, it was obvious she had a true understanding of the role and the subtlety of her acting was spot on, particularly her stunning performance of "With You".
George Stuart tackled the manipulative character of Carl effortlessly. Perfectly cast for the role, his ability to switch instantly from the genuine supportive friend to the despicable cause of Sam's death was impeccable since it left me genuinely gob-smacked as I'd really warmed to his character.
A particular stand out performance was Laura Wynter who played Oda Mae Brown, the sassy psychic; she has the ability to hear Sam and therefore is Sam's route of communication into the normal world. Her voice was tremendous and she had the audience in hysterics as her wittiness and comedy timing was marvellous. Her feisty character really brought a sense of relief as it lifted the heaviness of the tragic storyline, keeping the audience alive and engaged.
Other fantastic performances included James Mateo – Salt who gave an exceptionally intimidating performance as the thug Willie Lopez. Also Maison Kelley, perfecting the role of the Subway Ghost, despite his frenzied rage the story of how he became a ghost was touching, enabling the audience to really empathise with him.
The ensemble were very strong and there was not one weak link as they performed highly creative choreography by choreographer Clare Flavell. "More" was a captivating number as the innovative choreography smoothly transitioned into the busy subway.
Having not seen the professional production of Ghost I have nothing to compare it to however I thought the show was sensational. With such a talented cast and creative team it is definitely the most professional amateur show I've ever seen.
Being a big fan of the 1990 film 'Ghost' (starring Demi Moore and Patrick Swayze), I watched with interest to see how this original, fascinating story of supernatural romance could be brought to the stage effectively.
Although this production at the Wolverhampton Grand is classed as amateur, the performances by WBOS members were outstanding and I could so easily have been watching a professional production.
I was intrigued to see how people could 'become ghosts' on stage and the special effects baffled me every time! Also, the audience were stunned when lead character Sam Wheat (John Wetherall) appeared to walk through a door!
The acting and vocal performances of Laura Stanford as Molly Jenson and Laura Wynter as Oda Mae Brown were amazing and their contrasting personalities worked very well. George Stuart and James Mateo-Salt were equally convincing as baddies Carl Bruner and Wllie Lopez.
The dance ensemble and other 'ghosts' were entertaining and flawless and it was interesting to see all the different costumes and sets.
This show is both moving and humorous in places and myself and the rest of the audience enjoyed the emotional rollercoaster the show sent us on, snivelling at Molly's ballad 'With You' and hysterically laughing at Oda Mae's 'I'm Outta Here'.
The WBOS production of Ghost is both enjoyable and entertaining to adults, regardless of if you are a fan of the original film, and I recommend you catch Ghost here before it disappears!
Karen Hill
Spring Awakening – 2014
Dormston Mill Theatre, Sedgley
Frank Wedekind's 1891 original play, set in late nineteenth century rural Germany, dealt with the rites of passage of teenagers and the battles with their repressive and prudish parents and teachers.
It was promptly banned as pornographic.
Rarely produced in Germany, it was not seen in the UK until a 1974 National Theatre production convinced the Lord Chancellor of its merits, though the general public may still need to be won over.
It is still relevant to young people today. Though they may have access to the internet and a world of social media teenagers these days may be, in the words of one legal wit, "better informed, but none the wiser." This new musical sets out in graphic detail some of the dilemmas facing the younger generation.
From unwanted pregnancy to homosexuality and child abuse to fear of academic failure—there's even a spot of onanism, but that only raised a few giggles—the emotional and hormonal problems of adolescence are fully explored.
This is, without doubt, an outstanding cast performance. The ensemble singing is exceptionally strong, Claire Flavell's choreography is energetic and tightly constructed and though Duncan Sheik's music and Steven Sater's book and lyrics are not the most memorable I've ever heard, they do have an immediacy and punch which makes the message very pertinent to today's audiences.
Director Simon Pugh and musical director Adam Joy combine their talents to draw accomplished performances from the entire cast.
If there is a central role it is George Stuart's Melchior Gabor, a brilliant scholar able to argue about textural conjecture in Latin and a young man unsure about his feelings for the opposite sex. There is great support from Kim Lavender, as Wendla, and Chris Cahill as Moritz.
Some of the themes may be explicit and some of the lyrics unprintable, but this is a very touching story and a very commendable achievement by a very talented company.
Sister Act – 2014
Grand Theatre, Wolverhampton
The Birmingham Mail
Heavens above! The talented West Bromwich Operatic Society are performing this amusing musical with a professional-style skill.
Originally an award-winning film starring Whoopi Goldberg, it tells the story of good time singer Deloris Van Cartier, on the run after witnessing a gangster shooting and needing protection from the cops.
But when she lands in the apparent security of a Philadelphia convent, she quickly shakes up the tuneless choir and has them singing the kind of songs that at first shock the Mother Superior, stylishly played by Eileen Woolley.
But the real star of the show is Tasheka Coe, a communications manager for a banking group. She is a delight as the mischievous Deloris, showing a great stage presence, good looks and a great voice.
Tasheka keeps everyone on their toes, and all the supporting nuns impress, particularly with the sparkling choreography of Mike Capri who also directs the show.
Rachel Davies sings particularly well as Sister Mary Robert and there is an extremely humorous contribution from Nicholas Sullivan (Monsignor O'Hara) and Callum McArthur gives a suitably menacing performance as mobster Curtis Jackson, the dangerous boyfriend of Deloris whose gangster pals have the "nun" on the run.
Fine acting and singing, too, from Lizzie Buckingham (Sister Mary Patrick), Trish Humphreys (Sister Mary Lazarus), Simon McGee (Eddie Souther, the cop) and gangsters Simon Pugh, Matt Nicholas and James Mateo-Salt.
Ian Room is musical director of a quality show.
West Bromwich Operatic Society are showcasing their take on the  Whoopi Goldberg classic at Wolverhampton's Grand Theatre.
There was nothing amateur about the production – the costumes, the singing, the comedy, and the sets – all very professional.
Tasheka Coe who plays nun on the run Deloris Van Cartier was a find. She has perfected her accent and her singing shone in an array of numbers including Take Me to Heaven, Fabulous, Baby and Sister Act.
The supposedly tone-deaf choir were brilliant. The audience at Wolverhampton Grand Theatre laughed with them, cried with them and urged them to succeed.
Comedic trio Curtis, Joey and Pablo (Curtis' henchmen) got the whole theatre laughing and in absolute stitches in the second half with their Lady in the Long Black Dress number.
Even though they were the 'bad guys' the audience cheered and whooped when they demonstrated their romantic skills.Take Me to Heaven got the audience singing and boogieng along in both halves – the interval was full of it.
Loveable good guy cop 'Sweaty' Eddie surprised the audience with I Could Be That Guy – a sassy song with an equally smart and quick costume change.
Nicholas Sullivan's depiction of Monsignor O'Hara would have fit easily into a Carry On film; his animated jolliness really shone through.
The roar of the auditorium showed everyone really enjoyed the performance and the standing ovation secured their success.
Amateur theatre and local operatic societies continue to thankfully be plentiful in number and ever evolving in regards to the professionalism, ambition and scope of the productions they put on, something which is plenty evident within the West Midlands. The West Bromwich Operatic Society/WBOS are one such organisation who, with their latest production, Sister Act, further blur the boundaries between professional productions and amateur with an extremely accomplished, technically audacious and supremely enjoyable adaptation of one of musical theatre's more recent success stories. Following on from a celebrated original stint in London, a subsequent Broadway run and UK national tour, Sister Act is a musical adaptation of the 1992 Whoopi Goldberg comedy of the same name. There's some tweaks to character and plot, most notably (but understandably) dragging the whole back 20 years so it nestles comfortably with the disco stylings of the 1970's, and the score is entirely original as opposed to the collection of jukebox hits from the movie, but otherwise those familiar with the movie will have a strong idea of what to expect here.Funny, charming and all a dash more comedically heightened and exaggerated than it's filmic source material, Sister Act is a big, bold reminder of just how much fun musical theatre is capable of being. Soulful yet sinful Deloris Van Cartier (Tasheka Coe) is an ambitious, aspiring singer-performer, unsatisfied being relegated to menial performing work for her married gangster boyfriend Curtis Jackson (Callum McArthur) and a flurry of dreams and ideals for the 'Fabulous' life she has envisaged for herself. Attempting to leave, she bears witness to Curtis and his goons murdering a police informant, and is persuaded by former childhood admirer Eddie Souther (Simon McGee), now a police officer, to hide undercover at a local convent, much to the dismay of its strictly principled Mother Superior (Eileen Woolley).
All the terrific character beats and dynamics of the movie are perfectly captured by both the original shows book and also WBOS' terrific work in bringing it all to the stage. There is a demonstrable wealth of talent both on-stage and off within the ranks of the society, as the show not only looks and sounds terrific, with notably professional standards of lighting and staging in particular, but is also brought to life by a terrific cast and company that all mine every ounce of fun, energy and humour out of the rich material they have to work with. So often more enthused and spritely shows such as Sister Act lose a great deal of their spark and impact in amateur productions, but WBOS demonstrate no such apathy, and their Sister Act proves to be divinely good fun throughout and every bit as enjoyable as its professional predecessor. Having seen the West End and touring productions, my expectations going in were set high given my fondness of the show and it's superb Alan Menken/Glenn Slater soundtrack in particular, and it is with some confidence one can say that anyone who missed out on the show previously will here be getting the full, faithful Sister Act experience courtesy of WBOS and a production of near-comparable standards of excellence.
Tasheka Coe, who in 2010 appeared as a finalist in Andrew Lloyd Webber's Over The Rainbow, makes a wonderful Deloris, managing to impressively navigate the various nuances of the character from sassy soul singer to ultimately a far more introspective and empathetic character. She is matched beautifully by Eileen Woolley, who deadpans Mother Superior's acerbic putdowns with a real dry relish, as well as displaying some beautiful vocals, particularly in Act II's 'Haven't Got a Prayer', one of the character and actresses highlights. Rachel Davies shows the makings of a thoroughly capable and gifted stage actress, and it is great when she really tears into some of the big belts of 'The Life I Never Led'. The entire company of nuns, likewise, including great supporting turns from Lizzie Buckingham and Trish Humphreys (particularly hilarious and impressive as all-rapping Mary Lazarus), are a complete joy, with their choral numbers and harmonies rousing, exuberant and vocally on-point throughout.
One of the great achievements of the original show is in how it strengthened and played around with the male characters, and whilst casting Callum McArthur as gangster Curtis robs him of some of the soul/Motown spirit of the original role (usually played by a Black actor), he is so strong in terms of both performance and vocals it hardly matters, and certainly doesn't negatively affect the production. Similarly, his three henchmen Joey (Simon Pugh), TJ (Matt Nicholas) and Pablo (James Mateo-Salt) are great fun throughout, most notably in their Act II big number, 'Lady in the Long Black Dress' which audibly became a firm audience favourite. In regards to the rest of the men, Simon McGee is endearing and displays impressive comic chops as 'sweaty' Eddie, and Nicholas Sullivan steals practically every scene he is in as the excitable, buoyant Monsignor O'Hara.
In all, WBOS should be tremendously proud of what they have achieved with Sister Act, for  to recapture the Sister Act experience so accurately, and indeed professionally, is no small achievement, and in many ways it proves itself to be the most impressive and ambitious amateur production I have had the pleasure of experiencing in my years of reviewing theatre. Fans of the film or simply musical theatre as a whole should consider it their sacred duty to check this out, not only to support one of the Midlands very finest amateur theatre societies who are achieving great things, but also to genuinely experience one of the better musicals of the past few years brought back to the stage with almost startling accuracy, talent and self-evident passion and professionalism.
Grease – 2013

Dormston Mill Theatre, Sedgley
This is the company's third and final production of their 75th anniversary year and you couldn't fault the enthusiasm of the cast in the famous musical story of life and love at Rydell High School. It is an enjoyable show with Tye Harris a confident Danny Zuko, linking well with Kim Lavender who sings impressively as Sandy Dumbrowski, the shy new girl at school coming under pressure to accept the easy going behaviour of her peers. One man who seems particularly comfortable in his two roles is Leon Davies, playing local radio star Vince Fontaine, popping up occasionally from his studio, and Teen Angel in the Beauty School Drop-out scene. Other strong contributions come from David Walters (Kenickie), Tasheka Coe (Rizzo) and Emma Wetherall (Frenchy), with James Thomas providing slick comedy touches as the geeky Eugene. The shows creative director is Jason Capewell who played the Artful Dodger in the company's 1987 production of Oliver and is now resident director of the new UK tour of Priscilla, Queen of the Desert. Adam Joy is musical director and Kelle Walters choreographer/director.
Crazy For You – 2013

Grand Theatre, Wolverhampton
ONE of the top amateur companies in the region, West Bromwich Operatic Society are making a real song and dance of their 75th anniversary with this sparkling Gershwin musical. Working to Mike Capri's superb direction and choreography, the young cast come close to professional standard with their acting, singing and dancing. Leon Davies is excellent as Bobby Child, the 1930s recreating a role he first performed 15 years ago. He is sent to close down a fading theatre in Deadrock, Nevada, but falls in love with the daughter of its owner, Polly Baker, and instead leads a rescue mission. Claire Kramer is the perfect Polly, and there are fine performances from Emma Wetherall (Irene Roth) and Simon McGee (Lank Hawkins) and Simon Pugh (Bela Zangler) while the girl dancers are spectacularly good. Outstanding support, too, from new musical director Ian Room and his orchestra. Paul Marston
West Bromwich Operatic society are an amateur society, however they have always performed above that level in my opinion and they are well worth watching.
Crazy For You is a musical comedy with music by George Gershwin and follows the story of Bobby Child who is from a wealthy background but just wants to dance. Childs is trying to get away from his fiancée, (Irene Roth) and carry out orders from his mother to close down a theatre in Deadrock, Nevada. It is there that Bobby finds love in the form of Polly Baker, but it isn't an easy journey to a happy ending. There are various mad-cap shenanigans including the arrival of Child's jilted fiancée and two British tourists who are roped in to save the theatre. With toe-tapping, familiar musical pieces, it's a must-see show and it's one of the West Bromwich Operatic Society's best (high praise, as we've never seen a 'bad' show performed by this society).
Leon Davies shone in the lead role of Bobby Child, his vocal ability never wavers and he is equally as talented a dancer and actor. Claire Kramer was an excellent choice for the role of Polly, she sang 'Someone To Watch Over Me' beautifully and her duet with Davies 'Could You Use Me' was also a highlight. Also outstanding were Simon Pugh as Bela Zangler, Simon McGee as Lank Hawkins and Emma Wetherall as Irene Roth. 'Naughty Baby' in act two has lodged in my memory for the sheer professionalism of both performers – it was a superb number. Also putting in a hilarious contribution were Nick Sullivan and Chris Sandhu as Eugene and Patricia Fodor, a comedy pairing indeed. The chorus were very strong, cowboys and follies alike, Rachel Davies played Tess and she caught my attention in ensemble numbers as one of the most talented dancers. Rebecca Thorne was also notable as Patsy and played her with great comic timing.
I was impressed with the scenery and presume that it may have been used in a professional capacity on previous occasions. The orchestra were well chosen and the entire cast were in fine voice in chorus numbers, an amazing sound. Mike Capri has added complex and intricate choreography that created a good effect, he has also directed with the aid of Steve Bracey.
Whistle Down The Wind – 2012
Dormston Mill Theatre, Sedgley
THIS talented Black Country company are staging the Midlands amateur première of Andrew Lloyd Webber's musical with lyrics by Jim Steinman.
More than 20 youngsters are in the cast and are particularly impressive in the chorus work which features songs like No Matter What., When Children Ruled the World and, of course, Whistle Down the Wind.
Set in Louisiana in 1959, the musical's plot follows 15-year-old Swallow, who discovers a bloodstained mystery man hiding in the barn and believes he is Jesus, when in fact he is a fugitive.
Kim Lavender is excellent as Swallow, Lyndon Flavell sings superbly as The Man, and there are other impressive performances from David Walters (Amos), Joash Musundi (Edward), Laura Wynter (Candy) and Andrew Foggin (Boone).
Directed by Simon Pugh with Adam Joy's musical direction.
Titanic – 2012

The Grand Theatre, Wolverhampton
NEVER afraid of a challenge, this outstanding amateur company have found a musical triumph in the centenary of the tragic sinking of Titanic with the loss of 1,517 lives.
The music and songs are enjoyable – powerful at times – and the chorus work superb while the clever use of a sloping deck helps create realistic scenes of people sliding as the ship sinks.
Directed by Mike Capri with Jonathan Hill's musical direction, there are fine performances by Andreas Hope (Captain Smith), Tim Swallow (the owner, J. Bruce Ismay), John Wetherall (designer Thomas Andrews), Craig Smith (First Officer Murdoch), Leon Davies (radio operator Harold Bride), Tye Harris (Stoker Frederick Barrett), Rachel Davies (Kate McGowen) and Sarah Moors (Alice Beane).
Frazer Shine, playing Quartermaster Hitchens, is the great-great nephew of Ellen Shine, a third class passenger who survived and lived to be 101
West Bromwich Operatic Society is an excellent amateur musical theatre company, and, ever the shrewd programmers, are this week staging Maury Yeston and Peter Stone's multi Tony winning show "Titanic" to coincide with the centenary of the tragedy. "Titanic" presents many challenges to any company, amateur or professional, not least if the requirement for a huge cast with at least 10 major roles, and huge chorus numbers. I had the privileged of conducting Ragtime the musical with WBOS nearly 10 years ago, so I know they are capable of tackling a show on this scale. I am not going to single performers out from this excellent production – that would take 3 or 4 blog entries. The main thing I was struck by this evening was the commitment of the performers on stage. To tell a story of this emotional depth requires exceptional commitment from the performers and this group of performers delivered this commitment in spades. The cast ranged from bellboys aged 10 and up to senior company members well into their professional retirement. Every member put their heart and soul into this production, and it showed throughout the performances. Several company members were required to play 2 or 3 different parts, and these were always differentiated with great clarity, not just with costume. The chorus singing, such an integral part of this score, was excellent. So much so I was confused by the MD (Jonathan Hill) wearing headphones into assuming some choral work had been clicked to support the live singing. I was told after the show this was not the case – all vocals were live. The sound was thrilling and really gave a sense of the excitement of the greatest ship ever build setting sail. There were some delightful moments of characterization and direction (Mike Capri and Steve Bracey), none more so than in "Doing the latest Rag" when the professional dance couple, having performed their own routine, proceed to teach the 1st and 2nd class passengers to Charleston and Cakewalk. This was staged with great subtlety – the company didn't suddenly know how to do the dance but could be seen to be learning it, being a beat or 2 behind for some sections. Add to this Mr Guggenheim not getting the steps and getting clearly frustrated and you have a lovingly staged scene with great elements of realism. This purveyed the story telling right up to the curtain call. Quite uniquely the curtain call did not place any hierarchy on the performers or their characters. All significant performers got their bow, but the groupings were based purely on stage positions and not character significance. And the final group to receive their applause only had one principal performer in it. Such a small but significant step to signify that, in a tragedy such as this, as Captain Smith himself says, it's every man for himself. Also, possibly strangely, I would like to give a big thumbs up to the programme – probably the best programme for any show – amateur or professional – I've seen in a long time. Given that the show was being presented to coincide with the anniversary, the programme focussed on the real characters rather than the performers. Where the performers bios would normally be we got the character name, performer name, and then a short bio of the real character. No bios of the performers or production team was included – just names for credits. Such a significant selfless gesture, given the anniversary, has to be applauded and celebrated. Besides which much of the information was just plain fascinating! It just remains for me to say thank you to all at WBOS for another memorable night at the theatre, and a fitting and respectful tribute to those 1500 souls lost to the Atlantic 100 years ago.
The Producers – 2011

New Alexandra Theatre, Birmingham
IT'S hard to believe this Mel Brooks musical about staging a Broadway flop is being produced by an amateur company. The wonderful cast simply revel in the tale of the get-rich-quick scheme cooked up by a struggling producer and his accountant to oversell a lousy show then cash in when it closes after one night. They find a sure-fire flop – Springtime for Hitler, a gay romp written by ex-Nazi, Franz Liebkind (Jake Sharp ) – recruit the worst director in New York, flamboyant, gay Roger De Bris (John Wetherall) – and the show . . . becomes a smash hit. Simon Pugh is superb as producer Max Bialystock, there's a fine performance from Leon Davies as accountant Leo Bloom, and the latter's wife, Rachel, is a delight as blonde Swedish bombshell Ulla, Springtime's leading lady. Directed by Mike Capri, with musical direction by Adam Joy and Claire Kramer's choreography. Paul Marston
Oliver! – 2011

The Grand Theatre, Wolverhampton
EXACTLY ten years since they last staged the show, the talented company finds director and choreographer Mike Capri ensuring that it's as fresh and lively as ever.
Sarah Moors is an outstanding Nancy, girlfriend of the murderous Bill Sykes, and she thrills the audience with Oom-Pah-Pah and As Long as He Needs Me.
Steve Cousens is a powerful Sykes and bulldog Buster takes the biscuit for his impeccable behaviour as the villain's pet, Bullseye.
A sound performance, too, from Terry Gormley playing Fagin, while young Ben Evans acts and sings confidently as Oliver Twist and Maison Kelley is a confident Artful Dodger.
Callum McArthur and Chris Sandhu give a very sexy slant to the roles of Mr Bumble and Widow Corney, with Craig Smith and Rebecca Thorne a visually spectacular Mr and Mrs Sowerberry, the creepy undertakers.
Jonathan Hill is musical director of a cracking show
Jesus Christ Superstar – 2010

Alexandra Theatre, Birmingham
Jesus Christ Superstar is now 40 years old. If that puts the writing into its mid-life, there was certainly no crisis in WBOS energetic resurrection. With its overtones of a black pagan mass, this production has ambition to punch well above its weight and at times achieves it. Possibly benefiting from their week at the Wolverhampton Grand, the entire cast was position perfect and `in the moment' in every scene. SUPERB VOCALS There really were no weak vocal performances although lack of good mic technique occasionally sent a few notes into distortion .The clearest surprise was the young Lydia Hackett who crafted her superb vocals and acting into a mature compassionate Magdalene. On every level there's plenty to at look at. Herod's song featuring John Wetherall was the most surprising with its Fosse-like choreography and scantily clad decadence that would not have gone amiss at a Madonna concert. It's not all gimmick, the glitter just serves to effectively contrast the pain and emotional depth of the more torturous scenes. Possibly out of respect, the curtain call was taken in sombre character but against the elated audience applause though, I kept thinking, smile a little, this is a big production and you just nailed it. Jeff Grant
The Grand Theatre, Wolverhampton
WBOS have undertaken the huge commitment to perform Andrew Lloyd Webber and Tim Rice's dramatised musical, Jesus Christ Superstar, for two consecutive weeks in two theatres.
The show gives a view of the mental and physical torture of Christ in his last week on this earth and, whilst set to rock music, is definitely not light-hearted.
The whole cast made a splendid effort despite issues with the sound in the first act which detracted somewhat from performances. I suspect some first night nerves as well. Individual performances in the second act were more assured, much improved and promise even better for future.
Tim Prottey-Jones plays the 'haunted and hunted' Christ.  In Act I he did a good job with some difficult pieces but in Act II he really found his voice. Lyndon Flavell (Judas) gave a high-energy performance. Lydia Hackett has a great voice and her moving depiction of Mary Magdalene was a performance to note.
Best song of the night was I Don't Know How To Love Him. I also enjoyed the lighter King Herod's Song and the happy, clappy Superstar.   A big well-done to the orchestra.
The simple set was transformed through imaginative lighting and the crucifixion of Christ, whilst sad, was a powerful vision. The show is dedicated to Peter Davis who was to have directed the show but sadly died earlier this year. Lynda Ford 
THE highly talented company has accepted a difficult challenge in staging this Tim Rice/Andrew Lloyd Webber musical in professional theatres on two successive weeks, but the amateurs are turning it into a triumph.
On the 40th anniversary of the show, they will follow a week at the Grand with another at Birmingham's Alexandra Theatre, and a treat for audiences is guaranteed.
This rock opera tells the story of the last seven days in the life of Jesus Christ, and while it is a tense tear-jerker at times, there are lighter moments too, particularly when the portly King Herod (John Wetherall) sings his personal challenge to the doomed Jesus.
And the attractive girl dancers sparkle to the choreography of Claire Kramer during Herod's big scene, which contains some very sexy contortions.
Tim Prottey-Jones, in his first appearance with the company, is an impressive Jesus, delivering a powerful Gethsemane.
There are outstanding performances from Lyndon Flavell (Judas) and Lydia Hackett (Mary Magdalene), with strong contributions from Craig Smith (Annas), Callum McArthur (Caiaphas), and Luke Hopson, Simon Peacock and Roger Sheperd as the priests.
Directed by Tim Brown and produced by Mike Capri, with Jonathan Hill's musical direction. Paul Marston
Beauty And The Beast – 2010
Grand Theatre, Wolverhampton
Disney's timeless fairy story is delivered with style, imagination and vivid colour – plus the spectacular happy ending when the Beast is transformed back into a handsome Prince with a mid-air spin.
The emotional musical runs like clockwork, with the leads outstanding and the chorus work impressive throughout.
John Wetherall is a magnificent Beast, both when snarling and violent or, as his relationship with Beauty begins to develop, tender and loving. He has a fine voice, and forms the ideal partnership with Kim Lavender, who is bright and bubbly as Belle, the beauty with the power to remove the spell from her hideous captor.
Excellent performances, too, from Leon Davies as the village bully, Gaston, Sam Robinson (Lumière), Nicholas Sullivan (Cogsworth), Sarah Moors (Mrs Potts), Tye Harris (Lefou) and Peter Worrall (Maurice).
Costumes and special effects are top-notch, as are Mike Capri's direction and choreography, and Jonathan Hill's musical direction.