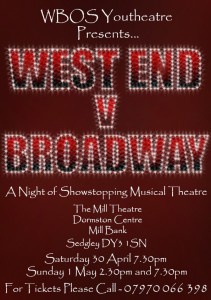 WBOS Youtheatre performed ''West End v Broadway' on Saturday 30th April and Sunday 1st May 2016
---
Public Reviews and Messages
West End v Broadway… WBOS YOUTHEATRE
DORMSTON MILL THEATRE
MAKES you proud of the younger generation after watching this sparkling concert by the talented youngster of West Bromwich Operatic Society's Youtheatre.
The cast, aged nine to 18 years, packed nearly forty numbers from a range of musicals into their programme and were even able to include some very impressive tap-dancing, too.
Much thought had obviously gone into the planning, with some lesser known but interesting pieces used as well as numerous major hits, while the choreography was bright and inventive throughout.
One of the early items to warm up the audience saw Aidan Cutler and Arabella Yardley sparkle in When Verruca Says, from Charlie and the Chocolate Factory, before Ellie Quinn delivered exactly the right emotion in I Don't Know How to Love Him, from Jesus Christ, Superstar.
Among other highlights were the full company in Buenos Aires (Evita) and an ensemble with superb dancing in Ol' Bamboo (Chitty Chitty Bang Bang), Matthew Evans and Oliver Thompson in Long Sunday Afternoon from Blood Brothers, Megan Hardy and Fiona Winning with I Hate Men (Kiss Me Kate), and Jess Williams with Can't Help Lovin Dat Man Of Mine (Showboat).
Alastair Winning, loads of expression in his white-gloved hands, excelled in Mr Cellophane (Chicago) while Navkiran Chahal lit up the second act with her version of A New Life, from Jekyll and Hyde.
Top marks to producer-choreographers Ben Cole and Claire Flavell and musical director Tim Harding and his musicians.
VERDICT: *****
PAUL MARSTON
---