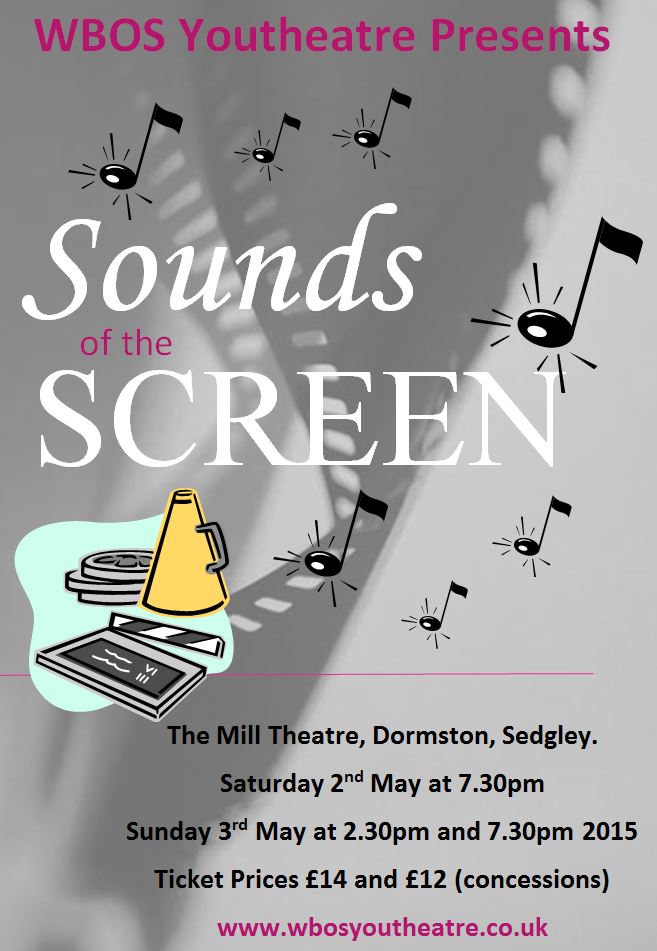 May 2015 – Sounds of the Screen
WBOS Youtheatre performed their annual concert on Saturday 2nd and Sunday 3rd May 2015.
See all the pictures from the show in this Gallery – HERE
(Pictures kindly taken by http://agbimagery.zenfolio.com/)
[slideshow_deploy id='000']
[book id='7′ /]
---
Newspaper Review
Review for Birmingham Mail and BC Mail, weeklies & behindthearras.com
VERDICT: * * * *
THIS was a splendidly put together concert by the West Bromwich Operatic Society's youth theatre who tackled a range of songs from the stage and screen with gusto.
A cast of more than 50 youngsters impressed audiences at three performance with their enthusiasm, talent and dancing cleverly devised by joint producers/choreographers Claire Flavell and Ben Cole.
Whether it was solos, duets or groups they met the challenge without a glimpse of nerves as posters or scenes from the musicals were projected onto a screen at the rear of the stage.
Highlights were plentiful, beginning with Grace Pugh and Fiona Winning in 'Sisters', from White Christmas, then Lucy Pritchard's beautifully sung Diamonds are Forever, a group version of Can't Take My Eyes Off You, from The Deer Hunter, and Jessica Harrison and Lara Pugh with Wouldn't it be Loverly (My Fair Lady).
The second act was packed with goodies, too, none better than Ben Evans, Will Foggin, Tom Harrison and Tom Withers as the Jersey Boys singing Sherry.
Tim Harding was musical director of a memorable show.
PAUL MARSTON
—————————————-
Production Team
Producers / Choreographers – Claire Kramer & Ben Cole
Musical Director – Tim Harding